Residential School
This is an initiative by Buddhi Trust to provide residential learning and development facility for slow learners and moderate to mild special children. The focus is on all round development including independence, sociability and special education.
The school is located in a calm and peaceful locality within Bangalore. It is secured with high compound wall, CCTV camera, security staff etc. It is having 2-4 sharing rooms with beds, 24 x7 hot water, activity center, exercise, physiotherapy facilities.
It has playground for outdoor games and playschool games like slides, swings etc.
Why Residential School?
Which is better? Keeping the child at home or sending him or her to a residential school ?
You can always keep him or her at home. You can probably find tutors locally. But there's much more than just fixing the problem of not being able to speak, read and write. There are self-support and self-confidence issues. As a good parent you are likely to get into the trap of doing everything for him, ultimately snatching away the opportunities towards independence.
It is a good option to send them to boarding school where he or she will have the kind of professional help and individual attention that is required. And 24/7 too.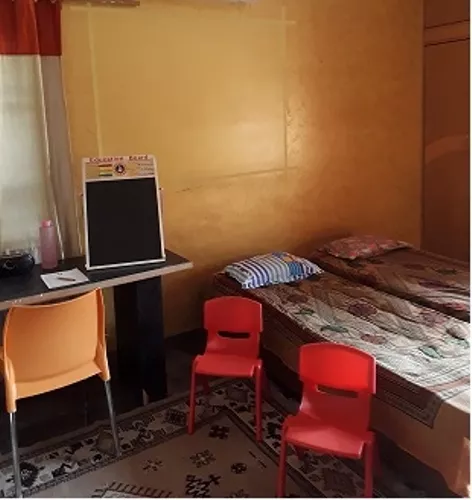 Constant social interaction
Students are always around their peers: in class, extracurriculars and in their living arrangements.
As such, they have many opportunities to be themselves and express their individuality outside of formal class time. This sociability is extremely important for students with special needs, as they lack confidence or communications skills.
Always being with their classmates will make them feel more comfortable than they would in a day school.
Taking care of yourself
Many parents cannot resist being over protective, pampering their kids and spoon feeding. In contrast, at boarding school, children with special needs will learn independence and discipline. For example, he or she may have to do cook or clean. Indeed, at a young age, your kid could live both independently and safely.
Closeness
Students with special needs often need extra/out of class attention. If you send your child to a day school, especially one that is not close to your home, you may have difficulty dropping him or her off early in the morning or picking him or her after hours.
At a boarding school, your kid will live close to, if not on, the campus. Therefore, seeking help, a vital part of special education, will always be convenient and possible.
Extra-curricular activities
After or before school programs are a great way to socialize and to hone a particular skill. Such a well-rounded education is a wonderful way in which to build the confidence of a child with special needs and to make school more enjoyable and less stressful.
At Buddhi Residential
We look after your gifted child with Love and care with a homely environment, day and night. It is managed by the Resident Head who is a Special Educator . She is having more than 10 years of experience in training & development of special children , slow learners and learning disabilities . The teachers and helpers are well trained on handling differently abled children.
Normal food is served as advised by the parents and dietitian. Maximum effort will be given to make your child to manage the day to day to routines, like bathing, washing the plates, taking care of cloths etc.
The day of your child is planned thoughtfully as per the need of your child. Like a regular school, students will be in the activity area from morning to evening. During these learning hours , they will undergo special education, social and occupational skill development. Joyful learning through cycling, dance, yoga, treadmill, exercise and other fun activities will be positioned in between so that your child's attention span is taken care of.
Our Services
As per the need of your child, regular therapies like speech, fine & gross motor, occupation etc. will be provided. Additional therapies are organised on request based.
The Jnanabharathi School of Basic Education, Hubballi, Residential School for slow learners, headed by Shri Gulab Doddamani
Our Daycare & Learning
For Special Children
Mon - Fri, 9:30 AM to 1:00 PM
Age group : 3 years to 12 years
Pickup and Drop ( Nearby Locations )
Extended Day Care - 7 AM to 7 PM
About Us
Our History
Buddhi Special School was established with a noble intention of training and development of children with Special needs and Learning disabilities. This center was started in Bangalore by the couple Rekha D S and Krishnaraja Marakini inspired by their son Arjuna who was born with Down syndrome.
Subsequently the Trust - Buddhi Vishesha Chetanara Kalika Kendra® ( ಬುದ್ಧಿ ವಿಶೇಷ ಚೇತನರ ಕಲಿಕಾ ಕೇಂದ್ರ ) was formed along with Sri Neelakata Rao, Senior Auditor and Sri Virupakshi Mysore, KAS, (rtd.) as founder members.
Our Programs
Our programs include the activities based on the individual needs like
Early Intervention
Assessment and development plans
Special education
Speech Therapy
Physiotherapy
Occupation therapy, gross and fine motor skill developmenet.
Ability based academic skills
Learning through Computer and Tabs for stimulating cognitive skills.
Dental and personal hygiene
Social and self management skills
Group Therapies
Milestone assessment
Daycare
Preparing for inclusive education in regular schools
Focus is on preparing your child towards regular schooling, self-sufficiency and the readiness for the regular social life with the society.
The centre has been working with nearby mainstream schools for inclusive programmes which is one of the primary objective of the Trust.
Our Centers
We are in Yelahanka, Bangalore. We have been providing development programmes for mild to moderate differently abled children. A thorough evaluation is conducted prior to the admission and based on the assessment, parents are advised to proceed with the admission or to approach other specilaied organizations like NIMHANS, Spastic Society etc. Post the admission, individualized learning and programs are developed followed by regular re-assessment and adapting the programs accordingly.
This is a residential ( boarding ) school for special children for their 24 x 7 development. Your childs is taken care by the trained teachers and caretakers.
Alternately, if you wish to send your child for day-care / day-schooling, pickup and drop facility is provided to nearby localities.
Daily Meals
Fruits
Cheese Sandwich (Gluten Free Option Available)
Fresh Orange Juice
Crackers
Fruit Salad
Fruits
Cheese Sandwich (Gluten Free Option Available)
Fresh Orange Juice
Crackers
Fruit Salad
Fruits
Cheese Sandwich (Gluten Free Option Available)
Fresh Orange Juice
Crackers
Fruit Salad
Fruits
Cheese Sandwich (Gluten Free Option Available)
Fresh Orange Juice
Crackers
Fruit Salad
Fruits
Cheese Sandwich (Gluten Free Option Available)
Fresh Orange Juice
Crackers
Fruit Salad
Fruits
Cheese Sandwich (Gluten Free Option Available)
Fresh Orange Juice
Crackers
Fruit Salad
Admission Process
We recommend admission for the age group above 4 years. Admission will be based on the assessment and discussions with the parents or guardian.
Kids less than 4 years will be considered for early intervention - day care
Contact Us
Information
Call us 080-28571011, 9972548000
We are located at
No. B-100, 5th Cross, Prakruthi Nagara, Kogilu Road, Near Kogilu Cross, Yalahanka , Bangalore 560064.